This post brought to you by ALPO® Brand Dog Food. All opinions are 100% mine.
Every time I sit down to eat Khole is down there giving me puppy dog eyes, lol… she always sits by me or my niece and nephews faithfully waiting for crumbs or goodies to fall. Dogs love variety just as much as humans do. Often times I think she's saying, hmm why do you get all these different kinds of yummy food while I have to eat the same dry food all the time?, lol…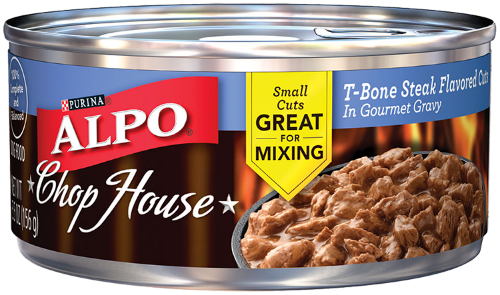 That brings me to my point of today's post, over time we've been introducing Khole to the lovely goodies that ALPO® dog food has to over and she's been very happy with the new cuisine. But we recently checked out other flavors and came across ALPO's variety dog food, specifically the ALPO Chop House which offers many unique flavors like Lamb, Filet Mignon, Rotisserie Chicken and more.
The possibilities are endless and each can is complete and balanced, ALPO® is made to promote healthy teeth, strong bones and a shiny coat for your fur baby. With ALPO Chop House 5.5 oz cans you can get that compact taste which is great for you to give your dog a sample of each flavor to see which they like best or you can mix it easily with dry food. The 5.5oz is also the perfect portion size for small dogs.
Check Out This Clip Of Khloe in ALPO® Bliss
At the end of the day our pets are family and we always want what's best for them and now you can add Add yummy flavor to your dog's life with ALPO®'s new wet dog cuisine, while making sure they get the nutrients they need. Wanna see more cute pooches enjoying ALPO® be sure to like ALPO's Facebook Page or check out ALPO® on Instagram.
Share Your Fav. Pet Stories Or Tips & Enter To Win A $25 Petsmart Gift Card